Another Core Animation sample, serving as sample code for
Threaded Core Animation
.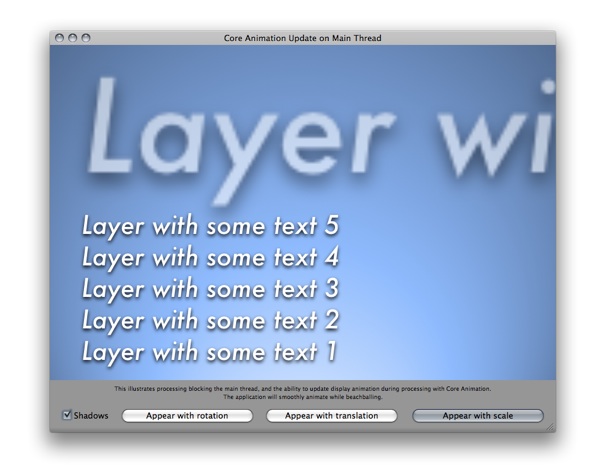 This will be a bit clearer than just text and shows how Core Animation can update itself even when you're busy on the main thread, using [CATransaction commit].
The transitions happen thanks to [CATransaction setValue:[NSNumber numberWithFloat:0.0] forKey:kCATransactionAnimationDuration] which changes the default speed of interpolation to a new value. When you set a new value of a layer attribute, CA will interpolate from its current value to the new one with a set delay. If you want to make a transition, you can't go around setting your start value and then your end value : CA will start interpolating from current to start, but then you'll be setting a new value, the end one, right when CA has just started interpolating !
kCATransactionAnimationDuration lets us get rid of that delay while setting our start value, CA can then interpolate from our transition start value to the end value.

CoreAnimationUpdateOnMainThread.zip