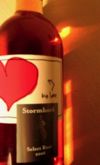 Bottle caustics !
I just had my first taste of Stormhoek wine and I'm surprised by its mighty tastiness.
While glancing at the label, I had that sense of déjà-vu … Ha ! The cartoon on the label is from Gaping Void, the guy who draws on business cards. I'd read about him on reddit, read about him drawing for some wine company. And now I can buy a bottle right next to my doorstep. And I mean that litteraly — it's just next door ! If everything on the Internet could be this simple … :)
Pour les Lyonnais : Vinatec, 1 rue Bossuet, Métro Foch. 4€ la bouteille.