There's been some talk about menu items at
Joel on Software
and
ignore the code
. If a menu item refers to an action that can't be done right now, should the menu item be :
disabled : the default. You can't click it, you don't know why.
active : click it and show an alert explaining why it can't be done.
disabled + tooltip : a short delay hovering the disabled item will explain why it is disabled.
And the fourth option, that you all remember when trying to go fullscreen with Quicktime :
active but greyed out : the menu item can be selected, clicked (it will then show an alert), and it looks disabled !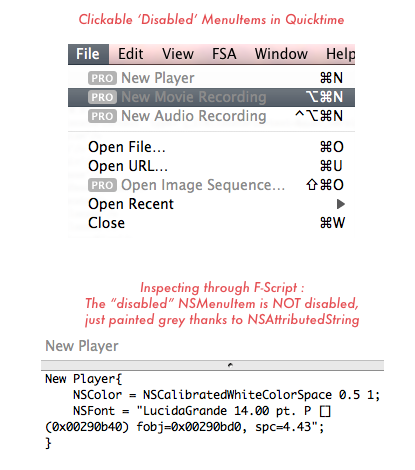 Let's launch F-Script and see how it's done : NSMenuItem uses a default font and color, but you can customize it via NSAttributedString.
I did not try it in code, but I suppose it's just a quick change in
validateMenuItem:
: always return
YES
, and change the
NSMenuItem
color when it should be disabled.